DIARY/PHOTO JOURNAL - Page 28
Week 34 - November 05, 2018 - November 11, 2018
Entering into our final travel week with Cinderoo, we found ourselves reflective and somewhat sad. We were completing an amazing journey and although we had anticipated the end, we were already missing our traveling campanion. But, travelling to and around Esperance lightened our hearts as we passed one stunning beach and bay after another.





One beautiful beach after another



And another, and another

We stayed the night in Esperance and reconnected with Rex and Debra and enjoyed a BBQ together. Much of the talk was about the Melbourne Cup, a horse race that is not just any horse race, but a national 'everything stops' to watch race. The next day we left Esperance and made sure we were in a town around race time so we could watch this important race. We found a pub that was televising the race and we cheered on the horses along with dozens of our new best friends.

Gerson displaying his wares
Watching the Melbourne Cup with all walks of life

Entrance to Albany Harbor


Have to watch out for those sneaky Bandicoots and those vicious Turtles crossing the roads



More flowers

Middleton beach was solitude defined

We continued west into Albany and Denmark and found ourselves really liking the area. Lots of rolling hills and of course, stunning beaches, not to mention an awesome blowhole that had my hair standing on end. We also stopped in at Mount Clarence and the Albany Heritage Park which had a display of WWII weapons and radar equipment.


Coming into Albany






Having fun with the guns

Peekaboo Skink

Enjoyed the history talk with the volunteer

Radar turret

WWI Anzac (Australia-New Zealand Army Corps) memorial

View to Albany Harbor area

Pine tree grown from cones recovered from enemy trenches


So many beautiful and weird flowers






Albany still has it old world charm architecture

About the blowhole as it is not your typical water spout. Due to the shifting of the rock bed and its diagonal uplift, gaps formed between the layers and thus when an ocean wave slams against the lower edge of the rock ledge, the water forces the air between the layers and the air escapes up above with a force that can knock you over. Not knowing what to expect, I stood right in front of the opening and whoosh! The air rushed right up my torso and made my hair (and my shirt) defy gravity. We sure did have fun with this and boy, did we laugh!


Near the blowhole


Blowhole vent





My hair-raising blowhole experience

We also made it across the peninsula and visited another unique natural wonder called "the Gap". Standing on a cantilevered platform, you are witness to the ocean rage into the gorge and batter itself against the rock walls with quite a deafening sound. And, just around the corner from the Gap is a huge natural stone bridge that took all of our self-restraint to abide by the signs that said to not climb on the bridge.


The Gap


The stone bridge

Size perspective - Gerson is on the lower walkway (in blue)

We found one of our favorite breweries - Boston Brewery


Cannot get over how many different flowers




Gorgeous Peaceful Bay


Sunset seen through different lens

We had a stop to take a treetop walk in the Valley of the Giants. The old-growth forest is a preserved grove of Tingle trees that reminded us of our California Sequoia trees. We walked along the 40 meter (120') high walkways and enjoyed seeing the trees from this different perspective.



Quite formidable trees





Enjoyable in many ways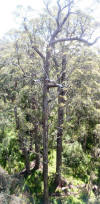 Views from the walkways

Controlled burn

Mighty Red Tingle Tree

We made a quick stop to enjoy a waterfall walk at Beedelup National Park and then on to our camp for the night at Hamelin Bay, known for its nice beach and fabulous sunsets.


Nice view to the ocean



Beedelup Falls



Sunset walk along Hamelin Bay

Cinderoo tucked in the trees
Next, we were off to visit the Cape Leeuwin Lighthouse and where the Indian Ocean meets the Southern Ocean. Again, such beautiful coastline and we were even shown where a rock formation is supposedly directly over Washington DC (if you dug straight down). We did not verify that information, but it was fun to imagine.


Cape Leeuwin Lighthouse




Where the Indian Ocean meets the Southern Ocean

Allegedly, directly under that rock, on the other side of the world, is Washington DC

And, not being ones to pass up a chance to walk in caves and see extraordinary rock formations, we stopped off at the Jewel Cave. The Jewel Cave was fascinating and it has thousands of hemotites, a rare formation that is built


Tasmanian Tiger skeleton found in the cave

One of the longest straw stalactites in the world at almost 6 meters




Down we go into the crystal falls

Tree root alongside a stalagmite

Beautiful Bacon formations


Wondrous formations and tight squeezes







Unique and rare helicitites (these grow sideways)


And still more different flowers

Our next stop was a place we had been looking forward to seeing for a long time. The Margaret River region is known for its surfing and its wines and although we did not surf, we certainly enjoyed the wine.


Coming into the Margaret River region




Around Margaret River


Surfing at Margaret River's mouth

Cinderoo just hanging out



We had an enjoyable wine tour



Just when I thought I had seen all the flowers....
And then...we found ourselves on our last travelling day with Cinderoo. Our last campsite, our last drive along the coast, our last hurrah with Cinderoo. Although, at the beginning of our adventure, we took a few days around Bunbury to test Cinderoo, we marked our official launch from Stuart and Jane's house. We passed through Bunbury with a nod to the fact that we had completed our circuit; however, we celebrated the official finish when we arrived at their home.

Our last campsite

Bunbury marked a full circle


The official complete driveabout around Australia
We pulled into Stuart and Jane's driveway and they were there to welcome and congratulate us. It was a befitting end as Stuart and Jane launched us on our adventure and they were there to embrace our return. We cannot thank them enough for all the help, support and encouragement and I feel fortunate to have them as family and as friends.
Whereas this marked the end of a magnificent journey around Australia, we still have a few weeks left to ready Cinderoo for her next campanions and see a bit more of the area around Perth before we head home. We're not done yet!