DIARY/PHOTO JOURNAL - Page 24
Weeks 29/30 - October 01, 2018 - October 14, 2018
The beginning of these two weeks pointed us toward Melbourne via the 'Sapphire Coast' where we were to meet up with Michelle (sans John who was working in China) which we met way back in Week 11 when we were hanging around Exmouth. On the way, we stopped off at Wilson's Promontory National Park to enjoy a day of walking, beaching and having fun with some locals.


Crossed over the famous Snowy River (loved the movies)

Just a beautiful building


Walk along the Tidal River

Cinderoo and her newly added Victoria flag



Why it's called the Sapphire Coast (North Bay)


Squeaky Beach and Picnic Bay


Had a close encounter with an uninterested Wombat


Beach time - Norman Beach (at North Bay)



Crimson Rosellas - you think they have been hand fed before?


Camp Wombat - so cute!
Next, it was off to Phillip Island. We were excited to visit this small island because it is where you get to experience the march of the Blue Penguins as they come ashore at night and waddle to their burrows.



A stop at Squeaky Beach (squeaky because of the sound the sand makes when you walk on it) along the way



A wallaby contemplating suicide and an echidna doing its best to hide



Phillip Island Blue Penguins returning to their barrows - so darned cute!


Just some of the beautiful roads and countryside coming into Melbourne

We easily made it to Michelle's home located in the 'mountains' behind Melbourne. A beautiful area dotted with quaint mountain towns, lots of walking paths and even Puffing Billy, a relic steam train that runs through several of the villages and right by Michelle's home.
Our first order of tourist business was to head to Healesville Sanctuary, home to many of Australia's unique animals and especially, the elusive platypus. We spent most of the day just wandering between areas where the animals are housed and of course, were front and center (literally) for the platypus experience.


Healesville Sanctuary


Tasmanian Devils - love the snaggle tooth






It was all about the playful Platypus, so adorable, yet the male is venomous!

Platypuses are fun

After the overload of the adorable platypus, we enjoyed viewing the other animals and especially liked the Spirits of the Sky bird show experience. Much like the bird show at the Australia Zoo in Queensland, the experience profiled birds from the area and it was fascinating.


A fake-looking tree frog

Possum hanging out

A contortionist Rainbow Lorikeet


Red-tailed Black Cockatoo

Forgot the bird, but he was trying to not be seen



A Black Kite doing a back flip to catch his treat

Beautiful Barking Owl

Peregrine Falcon



Wedge Tailed Eagle



One of our favorites, Black-brested Buzzard - love the pantaloons!




This was totally unexpected. A Helmeted Honeyeater (endangered) thought our hair was good nest material.

Cannot get enough of the Echidnas



Tree Kanagaroos - known for their unique blue eyes

And of course, a Koala

After the visit to the sanctuary, Michelle took us to Maroondah Reservoir Park and what a great surprise we had there. We stopped off at a picnic area and there must have been 50 Sulphur Crested Cockatoos, a dozen Rainbow Lorikeets, a couple King Parrots and even a few Crimson Rosellas (fast becoming my favorite bird). Let's just say these birds appreciate a free hand out (literally) and after being gifted with some bird seed from two generous little girls, we had an assortment of feathered friends perching on any horizontal surface our bodies provided.




King Parrot, Gerson, Michelle and me with Lorikeets

King Parrot

I loved the look of the Cockatoo in the background...almost jealous

We spent the rest of the day just relaxing at 'home' and with Gerson and Michelle in the kitchen, we went to sleep filled to the brim with contentment.
The next day, we made it into Melbourne and happily accepted Michelle and John's generosity in letting us use of some of their 'hotel points' and stayed overnight at the Intercontinental Hotel in downtown Melbourne, allowing us time to wander around the city and not worry about driving home that night. Melbourne is a beautiful city and has a classic feel that we did not get from Sydney or Brisbane. Melbourne seems to pulse with a casual creativity that we really liked.
We walked through the South Melbourne Market before meeting up with Michelle's daughter, Simone, for a wonderful lunch on the beach. From there, it was all about walking around and looking up at the magnificent buildings and admiring the graffiti artistry on several streets.


The paella in the market looked delicious


Having lunch at the beach with Michelle's daughter, Simone








Just samples of the architecture around Melbourne


Intercontinental Hotel- fabulous


Loved the old and new contrast

So many lively streets




The graffiti was fascinating and interesting how American politics influences the world


Of course I liked this shop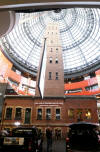 Melbourne Central shopping plaza

As we were luxuriating in a posh hotel for the night, we arranged to have dinner at B'Churrasco (a Brazlian restaurant) located near downtown Melbourne and as good fortune would be with us, our friend from Sydney, Adriana, was in town for her work and found a way to join us. Before we indulged in the Brazilian food, Gerson, Michelle and I stopped of at a rooftop bar (Vue De Monde) for a quick drink and a spectacular view of the city.
Being in the fun moment, I missed taking photos of our time at B'Churrasco and of Adriana, but the memories are still with us.






Walking home from dropping Adriana off at her hotel - beautiful city at night

We spent our morning at the Queen Victoria Market and then back to the hills to enjoy the afternoon amongst the trees and to watch a gorgeous sunset from Michelle's back patio.


Queen Victoria Market

One of many beautiful sunsets

We decided to spend a day close to home and of course, that meant us catching Puffing Billy going by the house. This historical preserved steam railway is a tourist, and I suspect, local favorite and like Cinderoo, he chugs his way uphill in style. We took a bit of a walk from Clematis into Emerald (the nearest town) and just enjoyed a very pleasant day.


Puffing Billy


Just a nice walk in the hills

Clematis train depot - so cute

Michelle's homestead has a variety of winged visitors and one very interested cat, Bella, a beautiful Burmese that is quite the personality. Although she would have loved to collect a feather or two, she had to be content with her imagination.


My favorites, the Crimson Rosellas


Kookaburra sitting on a kookaburra and having the feeling of being watched
Sulpher Crested Cockatoo

Good luck Bella
Before we arrived, a very large blackwood tree branch fell off Michelle's tree and she had to have the tree removed. As such, a huge mound of mulch and a significant batch of logs were stacked in her backyard. Fortunately, her daughter (Natalie) and son-in-law (Adrian) and his friends wanted the wood and came over to haul off the spoils. That was a great opportunity for us make a bit of Brazilian feijoada (black beans and pork) and other fixins for the family. I was enjoying myself so much that I again forgot to take many pictures, but I took away great memories.


Beautiful countryside around Clematis

Adrian and friends working on the wood pile

We were fortunate that the weather was mild for the two weeks we stayed at Michelle's place as Melbourne is known for its having four seasons in one day. We took the time and weather opportunity to paint Cinderoo and ready her for her new 'campanions'. As we are a month from finishing our drive-about of Australia, we will be selling Cinderoo upon reaching Perth. We wanted to spruce her up by giving her a fresh exterior appearance and brighten up her interior a bit as well.



My supervisor, Bella

One beautiful animal

Loved this view from Michelle's kitchen

We were able to complete the painting and finish a few maintenance repairs before rains did come in earnest and we were happy with the results. Although, we only lightened the 'vanilla' color and better matched the teal stripe to the curtains, Cinderoo looked ready for her advertisement debut.

We did take up a lot of time with the cleaning and painting of Cinderoo and as Michelle does work after all, our time together was best spent in preparing delicious meals and spending time just enjoying this wonderful newish friendship. In keeping with the foodie feel, we had a fantastic goodbye dinner at Elevation in Emerald. We wished we could have stayed a bit longer as John was to arrive from China in several days, but alas, Cinderoo was getting restless and we needed to continue our journey.


Dinner at Elevation

Bella was very comfortable with my company

Sometimes, just being with friends and people you enjoy is the best part of traveling and these past several weeks, from Brisbane to Melbourne, sure proved that point. Now, we are off to find Adelaide and as our luck will have it, more friends with which to meet.