DIARY/PHOTO JOURNAL - Page 4
Week 9 - May 14, 2018 - May 20, 2018
Where do I begin? I am exhausted from going through the 2000+ photos/videos in order to edit a chosen few for this journal page. What an dream-fulfilling week.
We headed north in anticipation of reaching Coral Bay by the end of the week and thus, we had some time to stop and enjoy much of what Western Australia has to offer. First, we took a moment to walk among ancient life in the form of 'microbial mats' that have helped produce oxygen into our environment. Much like the stromatolites, the cyanobacteria that are in these mats have been around for a very long time, and in the case of the microbial mats, over a billion years.
Just up the road, we had the opportunity to walk along one of the most fascinating beaches, Shell Beach. Living up to its name, this snow white, 70 kilometer (43.5 miles) long and 10 meter (32 ft) deep beach is made up of billions of Shark Bay cockle shells. With the stunning beach and the translucent blue-green waters, it truly was one of the most beautiful beaches we have seen in Western Australia.


Cyanobacteria microbial mats Hamelin Pool, Shark Bay


Shell Beach, aptly named and so beautiful
Denham, a small shire on the Peron Peninsula in Shark Bay, was our next stop for a couple of days. From here we had access to Monkey Mia, known for its dolphin encounters, and the views to the World Heritage Marine Park.
Shark Bay stretches from Kalbarri to Carnarvon, consisting of more than 1500 km (932 miles) of spectacular coastline, turquoise lagoons, finger peninsulas, hidden bays, white-sand beaches, intimidating limestone cliffs and numerous islands. This area is considered the westernmost city on the Australian mainland with an array of plant and animal life found nowhere else on earth. Remarkable!

Eagle Bluff view

Little Lagoon


Lots of magnificent eagles in the area

Little Lagoon is fed by this ocean inlet - crystal clear water


The ocean colors are stunning and Cindoo fits right in

Just an Emu crossing our road
Monkey Mia is a reserve/resort located on the east side of the Peron Peninsula and is just a place to go to watch the wild dolphins turn up for a snack. For many years, the Indo-Bottlenose Dolphins have come up the shore when they see reserve 'rangers' come down to the water's edge carrying a small bucket with a few fish snacks for the dolphins. According to the 'rangers', the snack is no more than 10% of the dolphin's daily food requirement and thus, the dolphins do not rely on the food, but rather, come to the shore a few times throughout the morning to 'socialize' with us humans.
Only the female dolphins receive the snacks due to their being pregnant or nursing their young ones (as a mature female dolphin is either pregnant or nursing for her entire adult life). It was a lot of fun to watch the dolphins come into the shallow water, tip to one side and look at all the people gathered to gawk and giggle at them. We felt like we were the ones on display which made the experience even more amusing. The volunteers that help with distributing the snacks get to pick a few people from the crowd to assist with the feeding and Gerson got chosen to help feed one of the oldest dolphins, Puck. Puck was taught about the snacks from her mother and has since taught her daughter, Kiah, and will probably teach her granddaughter as well.


Gerson feeding Puck and quite giddy about it

Puck getting her snack (from someone else)
As we had not made much in the way of plans, we decided at the last minute to take advantage of a sunset sail/dugong cruise out of Monkey Mia. The sunset sail gifted us with a beautiful sunset and a bit of fun 'volunteering' to raise the sails. The following day, we embarked on a sail to see the elusive Dugongs (similar to our Manatees) and we were able to see a couple coming up for a breath before disappearing in the sea grass.

Sunset sailing is never a bad idea


Breathtaking



Had a bit of fun volunteering to raise the sails

Dugong - they are quite the elusive buggers
After a wonderful couple of days on the Peron Peninsula, we made our way up the coast and stopped north of Carnarvon at a little off-the-beaten-path camping area called Quobba. This area is known for its surfing (a bit up north along a 4x4 road) and its blowholes. And yes, the word 'blowholes' is plural due to multiple water ejections along one shelf of exposed rock.


Quobba blowholes


Sunset from Quobba - quite the spectrum of color
Quobba was to be a stopover and it turned into a stop and stay. Just a short distance from the blowholes is a lagoon that is referred to as the 'aquarium' and is that an accurate name! We got lost for over an hour snorkeling in this amazing pool of marine life and my second dive, I found myself with turtles and fish I had never seen before. A special place.

A turtle and I swam together for quite awhile

Gerson walking across a land bridge to the island at low tide



So many fish and one incredible neon blue fish

View down the Quobba coast
We could have easily stayed in Quobba for many days but alas, we had a goal to reach Coral Bay and away we went. Coral Bay is just a few hours north of Quobba and is significant for its location within the Ningaloo Marine Park. A town that is primarily for caravan parks, small hotels and a hostel, caters to the adventure tourist. Tours for whale sharks, manta rays, SCUBA diving, snorkeling, 4x4s, quads, etc., are available and we did not hesitate to lock in our opportunity to swim with the whale sharks. But first, we just had to get in an amazing late afternoon snorkel.

Stunning reef

Sea Urchin - look closely at the blue and the star, beautiful

Gerson and a Giant Clam
And then, the day came. The day to swim with the whale sharks. First, we had a bit of an early snorkel before we left the reef and what a way to start the day. Sharks were aplenty, fish were curious and the reef left us breathless (probably due to the number of times we dove down into the depths to get a closer view).


Beautiful day for a cruise


Our first snorkel - sharks and gorgeous reef aplenty


Gerson taking the road less travelled

We saw several humpback whales


A fish ball - wherein (usually) sharks round up the fish and strike at them from below. Look closely at the fins protruding from the
water. There were a few black tips and a bull shark in the mix.
After the snorkel, the waiting game began. As we cruised northward within the Ningaloo, we waited for the spotter plane pilot to announce the sighting of the solitary whale shark and when he did, an excited ripple waved across the boat. Whale sharks are the largest 'fish' in the world. They are not mammals and thus, are not a whale, but named because of their immense size. The speckled whale shark eats only plankton and tiny fish, can reach up to 18 meters (60 feet) and are believed to live 70 to 100 years old. The first whale shark a wonderfully docile, curious and huge (12 meters or about 36' long), male and was not above following several of us as we flipped our feet around him. Apparently, our kicking creates bubbles that the shortsighted whale shark may take for plankton and thus, he would seemingly follow the flippers.


Our time with the Whale Shark. That look on my face is when someone realizes there is a mega-being turning toward you



Being this close to this magnificent creature was life altering




Is this 'fish' not beautiful?
Our second whale shark was also a male, although a bit smaller. But then, let's define small, shall we? We estimated his size to be about 28' or 8.5m. The second whale shark had been tagged by researchers so his travels will be well-documented. Whereas the first whale shark was quite curious and swam around us, followed us and seemed to enjoy our company, the second was not as accommodating. Enduring quite a long sprint swim to keep up with this (by his standards) casually swimming whale shark, we were gifted with some incredible photographic evidence from the on-board photographer.




This is so cool - the photographer got a shot of me taking Gerson's picture with the whale shark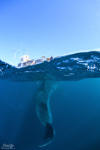 We cannae get enough of the whale shark pictures

End of a dream-fulfilling day
And to top off the experience, we met a wonderful couple (Frank and Patricia) out of Adelaide and closed the day with a few happy hour beers and regaling each other with our tales of bravey and comedy. Bravery for just getting into the water with the mega-ton fish and comedy, as Frank was seemingly chased by the first whale shark and his 'running' in the water was documented on the photographer's video.
I am not sure we can top this week in the amount of memories and truly once-in-a-lifetime experiences, but we are going to try! Starting with next week and swimming with Manta Rays!