DIARY/PHOTO JOURNAL - Page 10
Week 15 - June 25, 2018 - July 01, 2018
We started the week with a Happy 54th Birthday to Gerson and our officially entering the Northern Territory! With a long drive to Nitmiluk (Katherine Gorge) National Park, we did not plan anything for his birthday; however, Michelle and John were waiting for us at the camp with a massive leg of lamb and even a small cake. All we had to do was set up camp, pour a glass of wine and celebrate. It was wonderful!



Gerson's birthday dinner and cake. Thanks Michelle!



Views down to Katherine River

Katherine Gorge (Nitmiluk) is a beautiful Gorge that was best explored by boat. We chose to take a sunset dinner cruise and what a great choice that was. We started out before sunset and enjoyed a slow run up the Katherine River and were able to spot a few freshies. We then disembarked and while walking across the stone shelf, we were able to see some Aboriginal rock paintings. Due to the river being interrupted by small rock falls, large boulders and stone shelves, we had to jump on another boat that would continue up the Katherine.


Our Katherine Camp

Some local color - lorakeets



Cruising along the Katherine River



Their cousin was delicious!

Aboriginal art
With the changing light, the gorge walls lit up with color and became more ominous with shadow. It was difficult to capture on a camera, but then, memories are the best photos. We completed the round trip in the second gorge and walked back to our dinner boat (yes, three boats were used on the cruise). John and Michelle were our tablemates and we all enjoyed a 3-course dinner that consisted of crocodile, kangaroo, barramundi, fillet and a wonderful rasberry dessert, all while the sun was setting and the moon was rising. We cruised back under the stars while watching the eerie shapes emerge along the gorge.


Gerson enjoying our short rock hop to the second boat


Just a lovely place to be





Happy to take advantage of the sparkling wine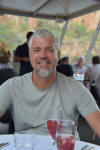 Great food too!


We all had a memorable evening


Full moon rising and the eerie images on the cruise back
Litchfield National Park was our next stop for a couple of days and boy, did we have a lot of fun in the park. We predominantly went to play in the waterfall pools and decided to put a twist on the experience by snorkeling the pools. It is amazing how many fish are in this pools and how interesting the geology is under the waterfalls.

We had a quick look at an enormous termite mound, approximately 12' (4m) high

Florence Falls

Lots of fish in Florence Falls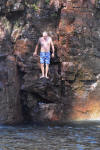 Gerson diving off Florence Falls



Me, Gerson and Michelle enjoyed the snorkeling



Just having fun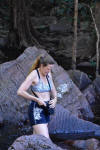 Always a challenge to keep my camera out of the water
After the Florence Falls, we were off to find the Lost City. Not a real city per se, but rather, a jumble of massive stone formations that resemble a long ago abandoned village. At first, it did not seem like much, but the more we walked around, the more fascinating the formations became and the more you felt like you were indeed in a Lost City.



The formations do resemble an abandoned city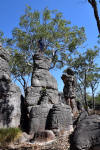 Gerson having fun with the stones

After the Lost City, we were off to take a quick look at Tolmer Falls, only viewable via a lookout. Our timing could not have been better because as we were sighing over the beauty of the falls, I noticed something moving upriver in a nearby pool. Fortunately, John, Michelle and I have good zooms on our cameras what we thought was a snake, was actually a very large Goanna swimming up to a rock shelf to sun itself.





Views of Tolmer Falls and surrounding


Crystal clear pool and one very large Goanna - at least 4'
The next day was all about Wangi Falls and we were happily surprised to have so much more than just a terrific waterfall pool to enjoy. Not only did Wangi have awesome thermal water falls and inlets, it had great areas to climb up and sit in small thermal pools.



Wangi Falls was very picturesque


Louise found the thermal fall and Gerson found the thermal pool
Also around the Wangi Falls was a nice little walk that brought the surprises. It started with some colorful birds flitting around the trees and then further inspection of the upper branches revealed we were being watched by a number of fruit bats. The fruit bats are considerably larger than 'cave' bats and definitely fit their nickname of 'flying foxes'. It was funny to listen to the bats argue while hanging upside down by only their toes.


Rainbow Bee Eater - apparently a shy bird





Many fruit bats, kind of cute and foxlike, and look at the toes!


Sharing the path with a couple of birds

Beautiful butterfly

We had such an enjoyable couple of days in Litchfield National Park and our time was enhanced by our being able to have a bonfire. Gerson and John did not waste any time collecting large branches that gave them the excuse to bring out their respective saws.


Our campsite

Gerson and John having way too much fun with their saws

While in Litchfield, we had the opportunity to take a close look at Cinderoo and realized that her muffler took a bit of a beating on the unsealed (washboard) roads. As John and Michelle were looking to get a repair done to their vehicle, we realized our next stop, Darwin, will also be a visit to a mechanic. We made it into Darwin on Friday afternoon and were fortunate to find a muffler repair shop that could take care of us Saturday morning.


Cinderoo got a bit of a lift and also got a new muffler

Darwin does not seem like much on the outside, but on the inside, Darwin is quite a nice community. We just happened to be there during the celebration of the 40th Anniversary of self-governance of the Northern Territory. Between the fireworks and concerts, we had a great time celebrating with the locals.
One such concert was given by the Darwin Symphony Orchestra with special guest band, The Diamond Dogs. They put together a spectacular tribute concert of David Bowie and John, Michelle, us and thousands of our closest friends, sat on the grass and enjoyed the free show.


Darwin Symphony Orchestra and The Diamond Dogs tribute to David Bowie

If that concert was not enough, the next day, we sat on the beach and watched another free concert given by multiple artists with the main act being Neil Finn (Crowded House, Split Enz and soon to be with Fleetwood Mac). Although the sound was not great, being on the beach with thousands of people enjoying the outdoors and especially, the magnificent sunset and the awesome firework show, made it all worthwhile.


Enjoying Neil Finn

Enjoying a sunset with a few friends



Beautiful sunset
What a great way to end the week!