Cindy likes the beach


The Captain's domain


The Living and Dining rooms


Very cool curtains

Master Bathroom

Master Bedroom and creative clothes storage

Expansive kitchen and check out our custom wallpaper

Dreamcatcher and safe journey charm - thanks Tawnie


Cindy is packed for Mexico
See Gerson's 7'10" addition


Necessities - clothes and books




Cindy's toys are strapped, locked and loaded


Pantry, hall closet and shoe storage


And we're off!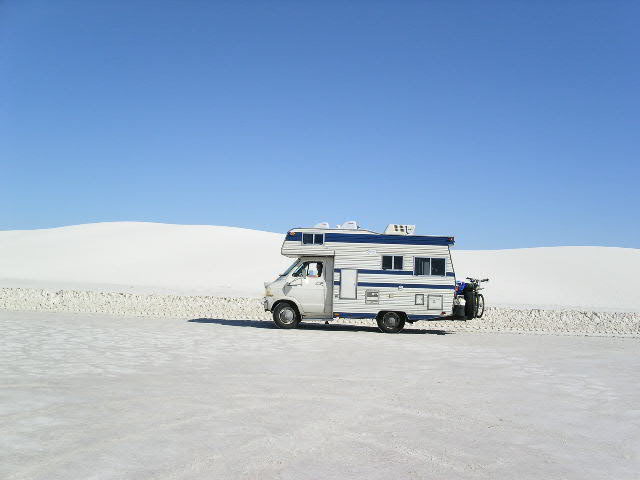 The name "Cindy" was the brainchild of Gerson who looked at Cindy as Cinderella. With a little cleaning up and a new outlook, Cindy should make it to the party, as in the South American party.
Cindy is a 1978 Dodge 1-ton Sportsman van that was converted to a motor home via Travette Corporation out of Bakersfield, CA. Travette is no longer in business; however, Cindy is thanks to a few modifications and various enhancements.
Basically, what Travette did, is they took the van and cut away everything behind the driver's cab. Then, they slapped on a tin box constructed suspiciously similar to a mobile home and Voila!, Cindy was created.
In her spacious 18', she can accommodate the two of us in her Master Bedroom/crawl-in closet, 3/4 bath (shower, sink and toilet), extensive kitchen/pantry and the-open-floor-plan living and dining room. You would think that it would be difficult to fit so much into so small an area, but we are able to find our neutral corners, when necessary.
Cindy has experienced some modifications to enhance her natural beauty. We had a storage box and a strong box custom welded to fit into Cindy's natural curves. We also added a bike rack and numerous shelves to round out Cindy's shape.
We replaced her roof and her windows to ensure Cindy stays dry and we gave her much needed interior cosmetic surgery for a more youthful appearance.
In Cindy's case, her beauty goes axle deep. We replaced the muffler, front and back suspension components, radiator, water pump, fuel pump, alternator, plugs, filters, hoses, starter, master cylinder, gaskets, transmission cooler, tires, fuel sending unit, lights, awning, vents and we installed tow hooks, an additional propane tank, upgraded shock absorbers and suspension air bags to give Cindy a more comfortable ride.
With Cindy, the saying "less is more" has true meaning. There were many that doubted her attractiveness but we saw the beauty that lay within and the possibilities of her character.